| | |
| --- | --- |
| Welcome %%First Name%% | August 2018 Edition |



This year, with the launch of GEM-CAR 11.0, there are so many features to present that the whole day is dedicated to making your shop a success.  



Including Digital Inspection GEM-CHECK



 In the toughest economic periods, GEM-CAR is your best MARKETING tool ... 
- Discover your software from a new angle... 
- Learn how to use it to fill your work bays?



Most complete Customer Relation Management software GEM-CRM



The first 25 shops to register will receive a SURPRISE GIFT from GEM-CAR



Here are a few improvements:

Improved GLASS Module

Improved RENTAL Module

New design &
Commercial invoicing.

You can now personalize your rental agreement and add picture.

New Performance Report

News options

Worked hours will be distributed by technician.

New options for color calendar, vehicle and inventory management.


XPLORE Tablet

 


waterproof & resistant





Great for

 


Digital Inspection

 




to be used from your punch clock GEM-CAR

 




Toronto Convention 
September 19th 2018 
Hampton Inn & Suites,
3279 Caroga Dr,
Mississauga ON
L4V 1A3
Convention time: from 9:00AM to 4:30PM



Breakfast will be served at 8:30
Lunch served at 12:00
 
September 19 (GEM-CAR 100%) Admission

 
$195 (1st ticket) + $95.95 (add. ticket)




| | | |
| --- | --- | --- |
| Septembet 20-21 (Kelly Bennett) Admission |   | $485 (per ticket)  |







 
 

The Hampton Suites

3279 Caroga Dr,

Mississauga ON

L4V 1A3


Block of 10 rooms reserved for GEM-CAR customers

For reservations, call: (905) 671-4730

Please call and ask for GEM-CAR special pricing at $139.95/night



*** GROUP CODE: GEM-CAR ***
Day #1 - GEM-CAR Training
For who: everyone
Capacity: 60 participants

You will be learning :

GEM-CRM

Top 20 new features that will help you save time
GEM-CHECK : Virtual inspection from your tablet



Key chain with Bar code : Yes scan the key chain and open your customer file from the POS
Price matrix optimal configuration (new generation : increase your profit by 3-5K )
Preventive maintenance : testimonies from GEM-CAR customers
Mathieu Brunel, President of GEM-CAR will give you his best practice recommendations and show attendees how you can benefit more from your software !
Day #2-3 - Coaching with Kelly Bennett 
For who: everyone
Capacity: 20 participants

He's has trained more than 25 000 technicians and shop owners during his career, he is what a music lover is to music but for repair shop management.


In this workshop you will learn how to improve the 4 main skills of a great service advisor; 

1. Customer Service 
2. Selling 
3. Administrative skills 
4. Basic Technical Skills 

We have all seen people who excel in customer service however, that skill can prevent the service advisor from selling needed services. Many shops think the process of selling will sacrifice customer service. Yet, Great selling enhances customer service. We have all seen people who can sell, however they are disastrous with paper work. 

Then there are some technical people who have great knowledge of auto repair, however seriously lack "people skills'. You will leave with an action plan to become a Great, well rounded Service Advisor. Another key is thinking outside of the triangle. How to navigate out of the Service Advisor Bermuda Triangle. 

• Proven sales techniques specifically for selling automotive service & repair. Automotive is the only industry Kelly trains in.
• Maximizing Diagnostic Sales. 
• Proven sales techniques for maintenance, repair, parts, sublet, tires, and more!

GEM-CAR now has a toll free fax number

877.504.9355
GEM-CAR Support                           


Toll free 866.848.8282                                          




Toronto 647.931.1463                                          




Visit us at www.gem-car.com                                



Refer a friend and follow us on  

">


GEM-CAR is a management software for repair shops (vehicles, fleets), tire centers and more
 You can contact us by email at

This email address is being protected from spambots. You need JavaScript enabled to view it.

 

This email is intended for '%%emailaddress%%'



Unsubscribe / désabonnement 





Investing in your Shop Management Software is one thing, but investing in learning how to use it to make your shop better is key.
So join us for our GEM-CAR convention in Toronto September 2018
The objective of the day is to make you discover all new features available in GEM-CAR so you can implement what will allow you to growth your business.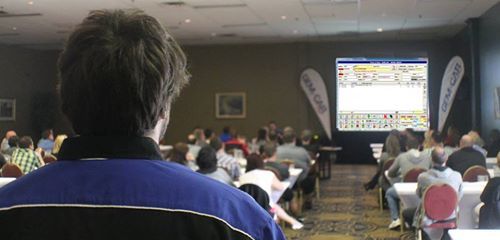 "As a passionate team, it's our concern that you use your GEM-CAR at its full capacity. Your success will reflect on the GEM-CAR community and will help you achieved your goal.  My passion is to help you succeed, so I will be glad to participate by being the guest speaker."

Mathieu Brunel,  GEM-CAR President.
Discovers some hidden marketing features that can assist you in increasing your sales.
Participate in our mutual goals, by bringing creative idea… GEM-CAR after all is for you.
  REGISTRATION : clic here....

Have a great GEM-CAR 20018 convention

  Kindly yours

Mathieu Brunel,  President