| | |
| --- | --- |
| Welcome! | May 2017 Edition |
This year, with the launch of GEM-CAR 10.0, there are so many features to present that the whole day is dedicated to making your shop a success.

In the toughest economic periods, GEM-CAR is your best MARKETING tool ...
- Discover your software from a new angle...
- Learn how to use it to fill your work bays?



The first 50 workshops to register will receive a SURPRISE GIFT from GEM-CAR

Toronto Convention
May 30th and 31st 2017


The Fairfield Inn and Suites Toronto Airport
3299 Caroga Drive, Mississauga, Ontario L4V 1A3
Convention time: from 9:00AM to 4:30PM

Breakfast will be served at 8:30


Lunch served at 12:00



May 30th (GEM-CAR 100%) Admission

$195 (1st ticket) + $79.95 (add. ticket)




| | | |
| --- | --- | --- |
| May 31th (Kelly Bennett) Admission | | $275 (1st ticket) + $195 (add. ticket) |




The Fairfield Inn and Suites Toronto Airport - Mariott

3299 Caroga Drive, Mississauga, ON L4V 1A3


Block of 20 rooms reserved for GEM-CAR customers

For reservations, call: (905) 673-9800



Please call and ask for GEM-CAR special pricing at $129.95/night



*** GROUP CODE: Coming soon... ***
Day #1 - GEM-CAR Training
For who: everyone
Capacity: 60 participants

You will be learning :

Quiz in team
Role playing with audience member
Free analysis of your shop
Top 10 secrets on how to make money using GEM-CAR
Top 20 new features that will help you save time
GEM-CHECK : Virtual inspection from your tablet
(Live conference with your client via their smartphone or PC)
Key chain with Bar code : Yes scan the key chain and open your customer file from the POS
GEM-CALENDAR : Book your appointments online
Manage your purchases to the printing of the cheques
Price matrix optimal configuration (new generation : increase your profit by 3-5K )
Preventive maintenance : testimonies from GEM-CAR customers
Rob Ingram will take 50% of the day to share his successful experiences with GEM-CAR and give you his best practice recommendations !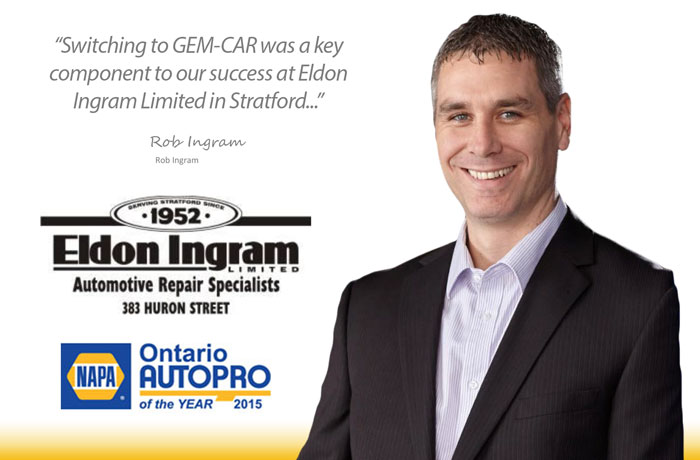 Day #2 - Coaching avec Kelly Bennett
For who: everyone
Capacity: 20 participants
He's has trained more than 25 000 techniciens and shop owners during his career.
MANY GARAGES ARE WORKING HARDER AND EARNING LESS.
TAKE THIS WORKSHOP & LEARN HOW TO STOP THAT!
Managing your business profits is like having a GPS for your car. You have a starting point,
Where are you financially in your business right now? To set the GPS on the correct course, you need to know where you want to go.
This brand new workshop will teach you how to identify where you are and how to get where you want to go.
CONTENT OF THE DAY

32 essential ratios to analyze your business,
Formulas to determine where your business is today,
How to create an action plan to repair the weak areas,
How to use the electronic tools to calculate your plan,
Effective actions to increase sales and gross profit,
How to reduce expenses so you can be at or below the industry benchmark.
| | |
| --- | --- |
| | GEM-CAR now has a toll free fax number 877.504.9355 |
GEM-CAR Support

Toll free 866.848.8282
Toronto 647.931.1463


Visit us at www.gem-car.com

Refer a friend and follow us on


GEM-CAR is a management software for repair shops (vehicles, fleets), tire centers and more
You can contact us by email at info@gem-car.biz
Unsubscribe / désabonnement