Save Time, Increase your Profit
Attend one of our Online Training
GEMINAR 
Maximize your GEM-CAR
---
Even though it is a customer's responsibility to backup their GEM-CAR when closing the software, we found a free tool that will help you make automatic and daily backup of GEM-CAR with ease and peace of mind.
Note: This tool should be install on the server for fast an easy configuration and backup speed.
---
---
Click the green button "Download free version"
---
---
Run the downloaded file,
Follow the steps through the following pictures:
---
---
---
---
---
---
Check the boxes:

Launch SqlBackupFree
Create a desktop icon

Click "Finish" to finalize the setup and launch the software.
---
Once you have the program window opened, there are many options you can activate. We are going to cover the most obvious ones.
---
---
On your left under the menu bar, you should see all your SQL databases on the computer (if you are on the GEM-CAR server computer).
Select the GEM-CAR database you want to include in the backup,
---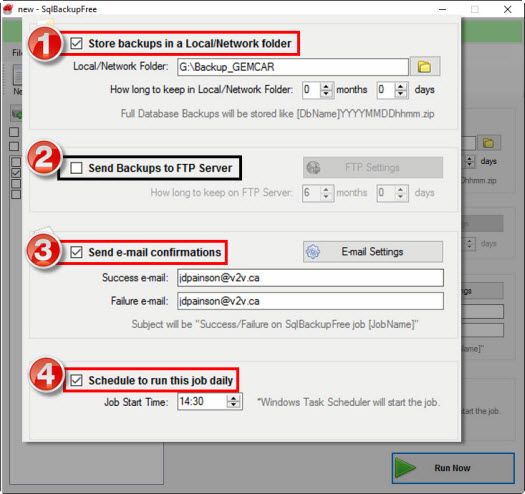 ---
On the right side, you will see all the options. *The paid version might have more.
(1) Store backups in a Local/Network folder
This option allows you to store the backup file in a local (on this computer) or a network (another computer on your network) folder. You can keep it for a certain amount of time to save space.If you don't put a number of months or days, you have a lot of backup files with different dates.
Here is an example of a backup folder:
---
---
(2) Send Backups to FTP Server
This option allows you to send or upload the backup on a FTP server, if you host one or a website (ex: ftp.gem-car.com). This allows you to keep a backup on-line, outside of the shop, to keep it safe from major incidents. You can also specify how long you want to keep the 
(3) Send e-mail confirmations
This option allows you to receive an email when the backup succeed or fails. To set it, follow these steps:
First, check the box next to the title "Send e-mail confirmations",
Click the "Email Settings" button,
---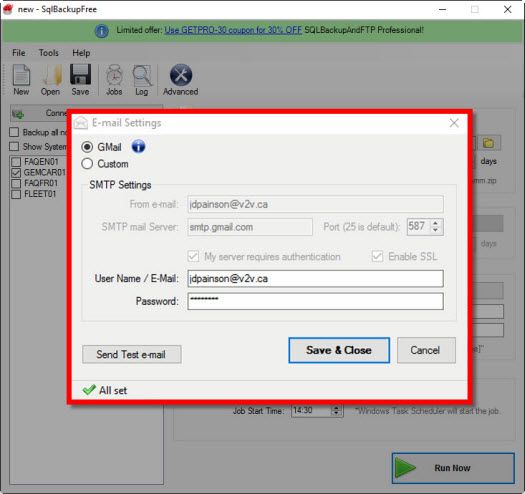 ---
Choose "GMail" for less and easy configuration with your GMail account.
Note: GMail might require that you to allow the software to send mail from your account. You can activate the Less Secure App option if you experience e-mail not being sent.
Or choose "Custom" to configure it just like GEM-CAR:

Enter an e-mail, SMTP Server, Port, Username, Password

Click "Send Test e-mail" button to test your configurations,
Click "Save & Close" button when everything is ok.
Here is an example of a successful backup e-mail confirmation:
---
---
(4) Schedule to run this job daily
This option allows you to schedule the backup process every day at a specific time (ex: lunch time).
Usage
---
---
When all your options are set and ready, simply click the "Run Now" button to start your backup job.
---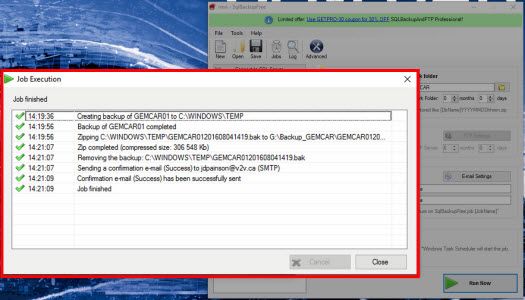 ---
Note:
---
---
You can also create and save multiple backup jobs (ex: for another database at another time, with another email or another folder). Simply use the "New", "Save" buttons in the top menu. To view all your jobs, click the "Jobs" button on the top menu.
If you like the software and want to use your Google Drive to have an on-line backup of your GEM-CAR database, you can purchase the basic version of the software.
Click here to see all the features & prices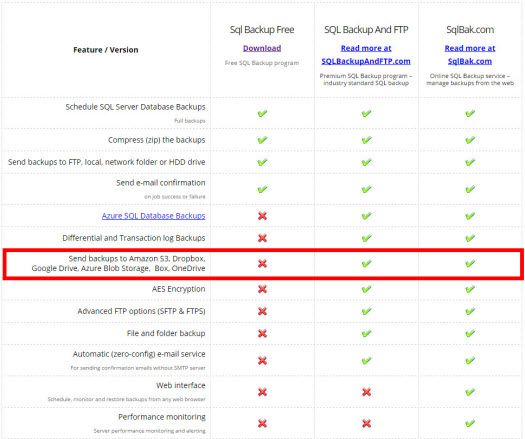 Configuration 
How To
Reporting 
Common Issues