We are pleased to announce the launch of a new tool developed by GEM-CAR R&D team to enable our customers to convert their old database to GEM-CAR.  
            SMS List
AB Magique
Acomba
ALLDATA
ASA
Avantage
CARRUS
CARS
Costar
Custom Autosport Design
Datadis
Easy RO
Echelon
Excel
Foundation(it3)
GMS
HP Jobber
ILube
Lankar
M-Key
MitAcc (Mitchell Access)
Mitchell SQL
PACE
PBS - ACDelco
Protractor
QuickBooks
R.O. Writer
S.I.G.
SEI
StockTrac
TABS AutoBiz
Total Shop Manager
VL
WindWard
Woerden
GEM-CAR, the Shop Management Software of the future,  is a comprehensive software product designed to provide total management of your service business. It has the ability to streamline your shop operation, provide excellent customer communications through an integrated CRM module, allow ongoing management of your labor efficiency and proficiency, and maximize the net profit of your business. To quote AC Delco "it's simply the best shop tool you'll ever buy"
The GEM-TEAM will be presenting all of the newest modules and improvement during the 6 days event in Detroit by the end of July 2015.
"Our customers that where involved in the Research and Development of the new release, are delighted with the ease of use of the new features that creates real result. For example sales of higher ticket went up 36% by sending picture of the issues with the car along with the quotation.  Linking a picture from your smart phone to the quote takes less than 3 seconds. Its easy picture sales.  " explain Mathieu Brunel, president of GEM-CAR.
 
In today's changing world, loyalty is key to a shop success. That's why GEM-CAR offer the shop promotes is services by adding personalized coupons on the bottom of the invoice.  For example our customer can link one of the 40 loyalty program available with the software. Shop owner would purchase point via our loyalty program partners and promotion management would be automated within GEM-CAR.
Come and meet us booth 1030 -1034
GEM-CAR is please to announce the launch of its new Western headquarters in Vancouver with 6 offices, a conference room, a training center that can host a group from 12 to 30 and a bay with a lift for technical training.
Kevin King, Mike Kelly,  Mathieu Brunel and Bob Worts  
at the official launch of GEM-CAR's Western Canada Trainer Center 
Bob Worts, Mike Kelly and Kevin King  
in training bay of the GEM-CAR's Western Canada Headquarter &Trainer Center
GEM-CAR's Western Canada Training Center
Capacity 12-30 students 
Mike Kelly teaching in the Western Canada Training Center
Mike Kelly and Mathieu Brunel  at GEM-CAR's Western Canada Training Center
Conference room at the GEM-CAR's Western Canada headquarters
Rest area in the GEM-CAR's Western Canada Headquarters
Mike Kelly planning training class for GEM-CAR's Western Canada Headquarters 

Mike Kelly in the marketing departement at the GEM-CAR's Western Canada Headquarters 

Mike Kelly in is office at the GEM-CAR's Western Canada Headquarters
Bob Worts, Mike Kelly and Kevin King in the work bay at the traning center
GEM-CAR users now have the opportunity to become a member of the CARFAX Service Network, unlocking free tools and benefits that help shops reach more customers, build service loyalty, and get customers for life.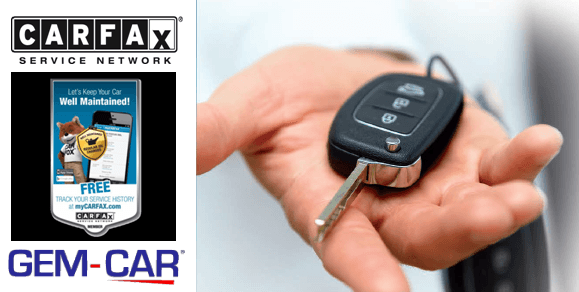 Now directly integrated with the GEM-CAR® shop management system, participating shops receive access to exclusive benefits including:
 CARFAX QuickVIN® decoder : technical car information,

 Service History Check™: all work history from other shops, 
These free tools help save time and money and increase ticket averages.
 
Shops also receive :
- free advertising on CARFAX® reports 
- free listings in the myCARFAX® consumer app (available for iOS and Android, and mycarfax.com),
Bonus : Service alerts keep vehicles coming back by reminding customers when they are due for recommended service.
GEM-CAR promoted is newest features in Vancouver at the LORDCO show 2015. In association with ACDelco, customers were able to attend a live demo in the main ACDelco booth or to attend a demo directly in the GEM-CAR booth.
Bob Worts and John Paterson at the GEM-CAR booth inside the ACDelco booth  
Kelly Bennett (The coach) and Bob Worts in the GEM-CAR booth - LORDCO 2015 
Customers attending demo in the GEM-CAR booth at the LORDCO 2015
GEM-CAR proudly supports the ARA at the LORDCO show 2015 ...
Learn more about the ARA at www.ara.bc.ca 
Mathieu Brunel, President of V2V Technologies, supporting the GEM-TEAM 
in the booth next to the ACDelco  booth at LORDCO SHOW 2015 
Kelly Bennett registering student to the ARA training program
Overview of Canada's largest trade show : LORDCO 2015
Presentation session in the GEM-CAR booth at the LORDCO show 2015 
Rene Young, Industry Relations Advisor, Mechanical Repair Division
This email address is being protected from spambots. You need JavaScript enabled to view it. at ARA promoting the association at he LORDCO SHOW
The 1010 Tires management team (GEM-CAR customer) coming for training at GEM-CAR booth - LORDCO 2015